Certified Customer Service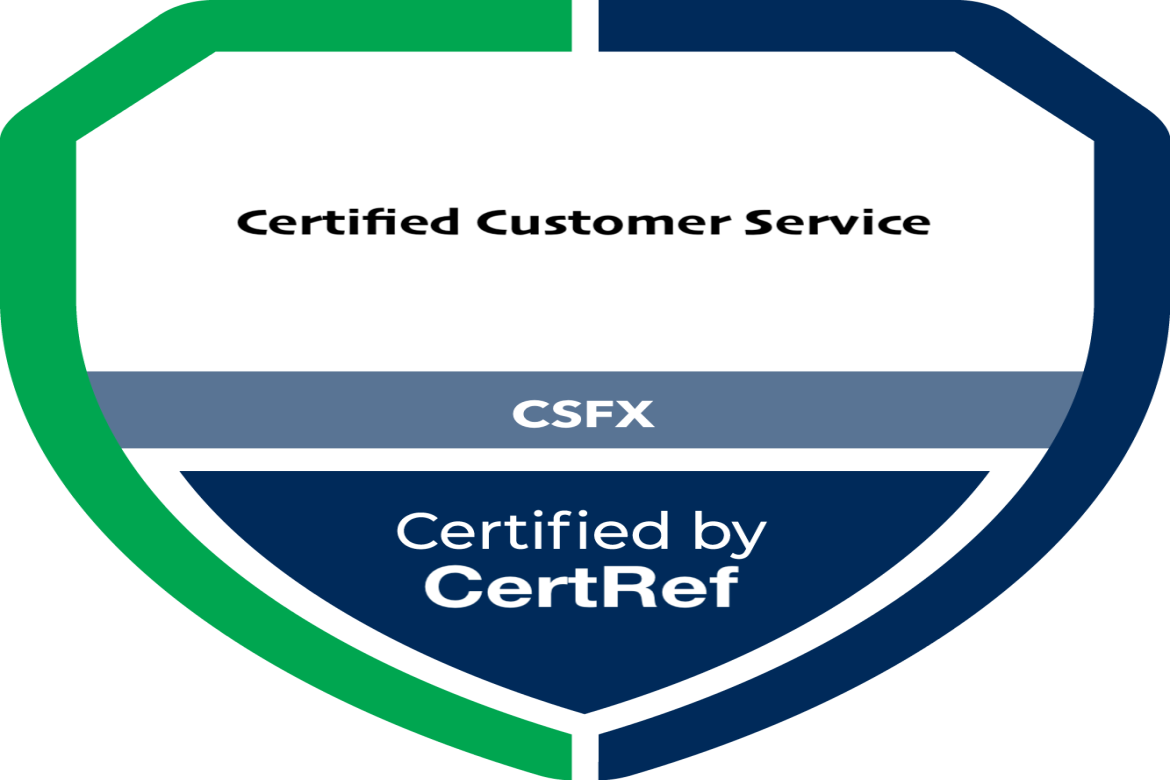 Exam Material
You need to
register for free
or
login
to access certification guide and references:
Building Great Customer Experiences.
Creating a Culture of Customer Service Excellence.
Customer Tells.
Great Customer Service On The Telephone.
The Customer Service Pocketbook.
Exam Info
Certified Customer Sxervice is one of the most valuable things you can do to grow your business and career path. The level of quality your customer service team provides will determine where people spend their money. Happy customers purchase more, buy more often and tell their friends about their positive buying experiences. Having happy customers begins with great customer service. CSFX is enough evidence that you are up to excellence level in customer service.
The Exam covers five main areas in customer service and experience:
Service-based interaction skills – To be sure that the service your team provides is thorough and well received, service-based interaction skills enhance the overall customer experience. Teach your reps to identify common ground and shared interests with customers. This will humanize the relationship and help ease conflict resolution. Active listening by your team members will make the customer feel heard. Clarifying what the customer says, rephrasing it and showing empathy confirms understanding. When your service reps admit their mistakes it builds trust and restores confidence while focusing on resolving the issue at hand.  Service-based interaction skills are an important foundation to all your customer service training.
Complaint handling – It's important that your service reps remain calm when receiving a complaint calls. Listening carefully, knowing what questions to ask and how to ask them are critical to understanding the situation. Once your team member knows the problem they need to show empathy and work quickly toward resolution. Effectively handling complaints and corrective actions is critical to a positive customer service experience.
Positive communications – Positive communications is about communicating with customers in a positive manner, not about having a positive mental attitude. Your customer service team needs to learn not to use negative language and phrases such as 'unfortunately', 'as you know' and 'I'm afraid that'. This language puts the listener on the defensive. Your team also needs to eliminate certain words, such as 'actually' and 'but', especially in customer service emails. Learning the best language choices to use when communicating with customers will allow your team to create a better customer service experience.
Service-based selling techniques – This is about teaching your team to recognize customer problems and translate them to solutions offered by your company. This must be done with a focus on the customer, not on closing the sale. It is equally as important that your team members know when your organization doesn't have a suitable solution to meet the customer's needs and communicate this as well. Developing service-based selling techniques is key to hitting your solution sales targets.
Follow up and feedback collection – It's important for your team to follow up with customers. It allows the opportunity to make sure issues are resolved, that things are going smoothly and to receive valuable feedback to improve products and services. Not only that, follow up helps build and reinforce the relationship with the customer. This increases customer satisfaction and retention.