Certified Scrum Master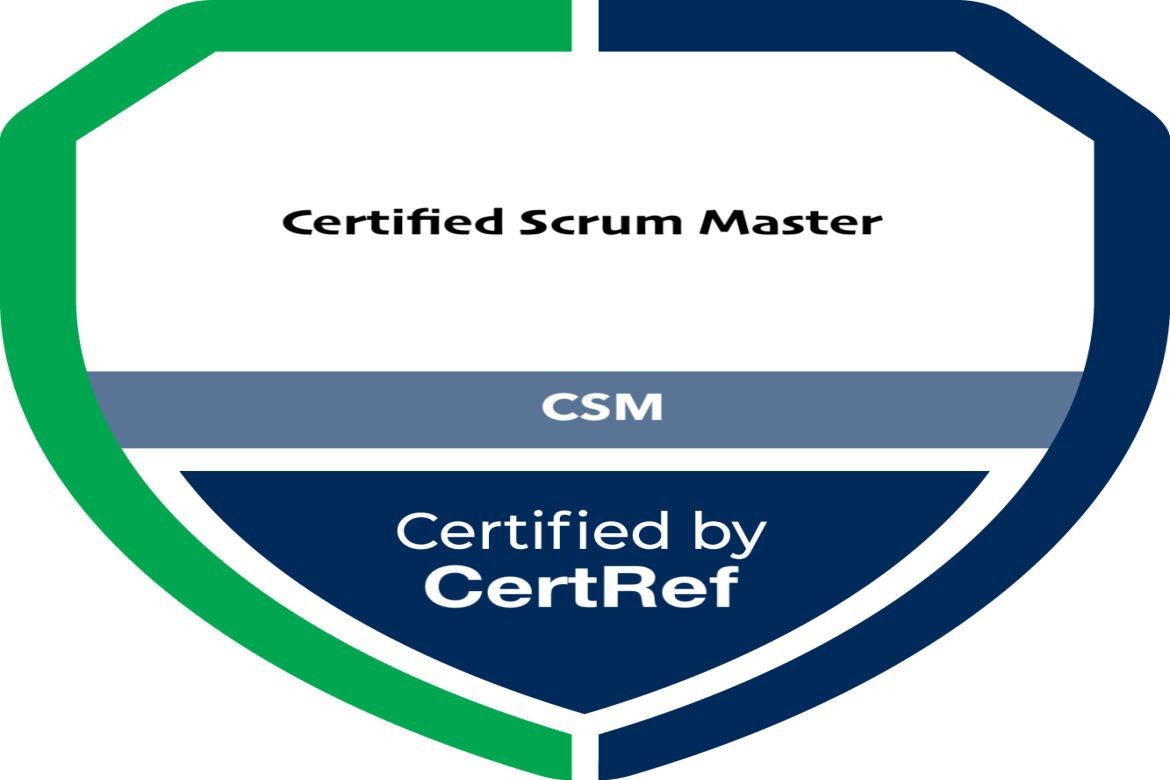 Exam Material
You need to
register for free
or
login
to access certification guide and references:
Scrum in Action - Agile Software Project Management and Development.
Scrum Project Management.
Scrum Training Manual.
Exam Info
As a Certified ScrumMaster (CSM), you'll help the Scrum Team perform at their highest level. CSMs also protect the team from both internal and external distractions. Through the certification process, you will learn the Scrum framework and gain an understanding of team roles, events, and artifacts.
Being a CSM will help you to:
Expand your career opportunities across all industry sectors adopting Agile practices
Demonstrate your attainment of core Scrum knowledge
Learn the foundation of Scrum and the scope of the role
Engage with Agile practitioners committed to continuous improvement
Skills needed to pass the certification exam of scrum master (CSM)
SCRUM AND AGILE

Four values of the Agile Manifesto
Twelve principles of the Agile Manifesto
Definition of Scrum
Relationship of Scrum to Agile

SCRUM THEORY


Empirical process control as it relates to Scrum
The 3 pillars of empirical process control and their importance
How and why "incremental" is an important characteristic of Scrum
How and why "iterative" is an important characteristic of Scrum
Applicability of Scrum (addresses complex adaptative problems across multiple industries)

SCRUM VALUES


Identify the five Scrum values
How and why commitment is an important Scrum value
How and why courage is an important Scrum value
How and why focus is an important Scrum value
How and why openness is an important Scrum value
How and why respect is an important Scrum value

SCRUM TEAM


Why self-organizing is an important characteristic of Scrum Teams
Why cross-functional is an important characteristic of Scrum Teams
Identify the roles on the Scrum Team
Identify the responsibilities and characteristics of the Scrum Master
Identify the responsibilities and characteristics of the Scrum Product Owner
Identify the responsibilities and characteristics of the Scrum Development Team

SCRUM MASTER


Understanding responsibilities and characteristics of the Scrum Master -- servant leader for the Scrum Team
Scrum Master service to the Organization -- coaching, facilitation, removing impediments
Scrum Master service to the Development Team -- coaching, facilitation, removing impediments
Scrum Master service to the Product Owner -- coaching, facilitation, removing impediments

SCRUM EVENTS


Characteristics, value and/or purpose of the Sprint
Sprint Planning -- characteristics, value, purpose and/or role of participants
Daily Scrum -- characteristics, value, purpose and/or role of participants
Sprint Review -- characteristics, value, purpose and/or role of participants
Retrospective -- characteristics, value, purpose and/or role of participants

SCRUM ARTIFACTS

Understand the purpose and value of Scrum artifacts
Identify Scrum artifacts
Product Backlog - characteristics, value and purpose
Sprint Backlog -- characteristics, value and purpose
Increment -- characteristics, value and purpose
Understanding importance of transparency of artifacts to evaluate value and risk
Identify the downsides of lack of transparency
Importance of establishing the Definition of Done
Characteristics of Product Backlog items